on
January 3, 2012
at
8:44 am
I caved.
I really didn't want to do this, nor did I feel the need to do this, but after seeing a few similar lists, I couldn't let it go. So:
Best Superhero Comic of 2011 – Daredevil (Mark Waid/Paolo Rivera/Marcos Martin – Marvel Comics)
I had to look at my Comixology Subscription list to remember what I pull because, as you know, I used to work at Jim Hanley's Universe and I read a LOT of comics in 2011. Daredevil is so impressive because how it spectacularly imploded during the Shadowland storyline. I won't say Shadowland sucked, but it sucked the air out of the character. Only Mark Waid could revive it. Of course it was Waid! Waid can do more for superhero comics than any amount of mainstream attention could. No movie needed; Just add Mark. But as good as the stories are (and they're phenomenal), the art has to be just as good. The art in Daredevil, whether by Paolo Rivera or by Marcos Martin, is, bar none, the best of any monthly comic book. Period. Daredevil could very well be the most beautiful superhero comic in…ever. Martin is moving on to a new project in 2012, and Kano will be taking over alternating duties (at least once) in the new year, but all indications lead to this book KEEPING it's quality. Seriously, if you're not reading Daredevil, you probably hate good comics.
Favorite Superhero Event of 2011 – Spider Island (Dan Slott/et al – Marvel Comics)
It'd be easier to say why I didn't enjoy Flashpoint or Fear Itself or any other event comic(s), but why I liked Spider Island so much is because, and this sounds stupid, but it's because I know Dan. Dan's enthusiasm is palpable within the pages of Spider Island. Even in the books that he's not writing. Is that saying that you need to know Dan to enjoy Spider Island? Absolutely not! It's engaging, it has consequences, and above all, it's FUN. The concept is so simple, and yet it is executed so flawlessly. It's a credit to everyone that worked on the book. It will probably be an amazing (pun!) trade. You don't need to know Dan, but if you did, you'd probably love it just as much. I bought a used copy of Spider-Man: Shattered Dimensions as a result!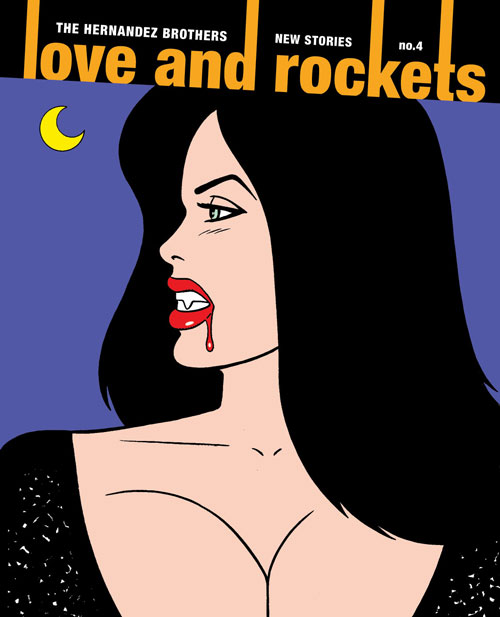 Best Single Issue of 2011 – Love and Rockets: New Stories 4 (Jaime Hernandez/Gilbert Hernandez – Fantagraphics Books)
I don't need to explain this pick. The Hernandez Brothers, since New Stories 3, have really created the most important mythology in comics since Stan and Jack (and Steve). The Love Bunglers is definitely going to be a best selling trade when FB collects it. King Vampire is a fun story, but seriously. Jaime Hernandez should win every single award in comics in 2012. Sean Collins has a better review of it, so I'll leave that at that. This isn't a review; this is me telling you what I liked. My opinions are already out in the open.
Best DC New 52 Relaunch – Batman (Scott Snyder/Greg Capullo/Jon Glapion – DC Comics)
Yes, I love Aquaman. Yes, I love Animal Man, and I am really one of the biggest defenders of Batman and Robin. But the best book in the New 52 is Batman. I've said it for years; Capullo was born to draw Batman and while there are some things I would art direct a little differently (Joker's hair, Bruce Wayne's face), I honestly wouldn't change a thing. Scott Snyder hooked me with his Black Mirror storyline in Detective (track that down!), so I had no doubts about his ability to weave a Dark Knight tale. Honestly, one of the highlights of every month.
Best Comic I Discovered in 2011 – Pluto (Osamu Tezuka/Naoki Urasawa – Viz Media)
Very late in the game, it took an iFanboy article to get me to look at this. And, man…I've been a fool. A fool no longer though. This is perhaps the greatest science fiction comic book ever. Reading this has influenced me as much as Robinson's Starman, Ellroy's LA Quartet books…it's seriously the most important comic in a decade to me. Manga has always troubled me, but this transcends manga. It transcends comics. It's a great piece of fiction and should not be relegated to just the comics or manga medium. This is the Love and Rockets of Manga.
Best Movie I Saw in 2011 – Crazy Stupid Love (Warner Bros.)
I mean, whatever, I didn't see Drive. I knew I'd like this, but I didn't think I'd love it. It's heartbreaking, funny, sexy…it's exactly as advertised. A "romantic comedy." The performances were just…wow. I loved The Help, but this was just as great an ensemble movie and the plot was simple. Speaking of Kevin Bacon…
Best Comic Book-Based Movie I Saw in 2011 – X-Men: First Class (20th Century Fox)
Had my doubts. They were all based on the trailers. This was one of the most pleasant surprises I had going to the movies this year. That's not to say that other comic book movies weren't good (I even kinda sorta liked Green Lantern); it's just that X-Men was better. Credit the performances of McEvoy and Fassbender. Everyone was great (I would have preferred Alice Eve over January Jones, but…ok), but the leads did just that; they led. I'm in for the sequel.
Best Video Game of 2011 – Batman: Arkham City (Rocksteady/WB Games)
I never finished Arkham Asylum. I'm just not a big gamer. I love playing games, don't get me wrong, and I did enjoy the Hell out of AA, it's just…you know, life! And I'm not finished with Arkham City yet either. But here's the tell tale sign of how much I love this game: I bought 5 new releases this year. This is the only one I didn't trade in. And I won't trade it in, even if the time presents itself to play it. Why? Because it's AWESOME. The world is fully realized, and there's so much to do. As much as I hate Zzasz's intermittent phone calls, it's still a part of an ever moving plot. This is what licensed games should be.
Best New TV Show – New Girl (Fox)
I wasn't skeptical or anything like that. I expected I would like this show. I mean, it comes on after Glee; with that lead-in, of course I would watch it (and I watch Raising Hope, so yeah…Fox programmed me to sit still). And I'm about to say something very controversial; Zooey Deschanel isn't even the best part of every show. It's Schmidt (Max Greenfield). Truth be told, the guy roommates are just as funny as anything else in the show. And that's not to say that Zooey isn't funny; she's hysterical. But when she plays the straight man to Schmidt, Winston, Nick and the late lamented Coach, she's even funnier.
Album of the Year – Foo Fighters – Wasting Light (Roswell Records/RCA)
This comes as no surprise to anyone who knows me. The joke about me is that I only listen to 5 bands (Foo Fighters, QotSA, Soundgarden, Jane's Addiction, Stone Temple Pilots), which isn't true…not exactly. But the reason why I have this here is because this album, after their last one, was one of the most incredible sound experiences I've ever had in my earbuds. Don't believe me? Stream the album. If that first song doesn't kick your ass (and if every song after doesn't), you must hate music.